He tossed the book on my desk. "Write more stuff like that. It's hilarious. Fantastic."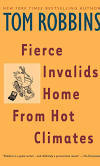 Hmmm… Never heard of him. I'll read it.
I read it. There was a word in there that I'd never heard of; and nobody else I knew had heard of it either. I did a search and eventually found it. Very obscure. Got my attention. Every metaphor was nearly the best I'd ever read. I did a dialog with two of my pop-up characters, Myron "Bud" Katzmann, MD and Stephanie Springer, MD, where one of 'em brings up how wonderful Tom Robbins was, and only if our author could write that way. Springer gets dreamy-eyed and starts in on what it would be like if Robbins wrote about the bouganvillas they were admiring. Springer says the bougainvillea are scintillating and Katzman give her grief over it. They continue…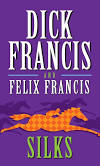 "Who's Tom Meadows?"
"He's the guy who gave the Author that Tom Robbins book, Fierce Invalids… Now our Author wonders if he should toss in those crazy long creative metaphors and analogies like Robbins."
"Oh, don't even go there T-Bone Rex. Robbins is in a class of his own. Move on and appreciate his skill but don't try to compare. It's not part of what is important. You've already got all of us in a knicker-twist over scintillating don't try to do and the flowers were like cupid's kisses covered over with vegetable cell-structure that absorbed the whole visible spectrum except love, lovely, lovelist red."
Bud read the above lines. "Hey not to bad, Doc. A little corny, but ok."
"It's not us, Bud. That whole re-do is ok, but it's a kind of a waste of time and mental effort. Plus, it's corny, like you said and we'll never be as clever as Robbins.